Garage Central
Covered parking lot for cars in Via Stazione 1 in Ortisei
The Central Garage at Via Stazione 1 was built by the municipality of Ortisei in 2000 and offers approximately 222 covered parking spaces. Several renovations have recently been made inside and outside the garage. Directly above the garage is a green relaxation area with a small playground. There are several benches where one can sit and enjoy a quiet moment.
Located between Via Stazione (car entrance) and Via J.B. Purger (car exit), it is an ideal place to park one's car to reach the center of Ortisei. Because of its excellent central location, one can walk to the squares, businesses, and ski lifts in a very short time.
The church square is approx. 250m away (approx. 3 minutes on foot) and the "Piazza di Sant'Antonio" approx. 500m away (approx. 8 minutes on foot). In a short time you can also reach the main ski lifts in Ortisei: Resciesa ca. 650m, Seceda Cable Car ca. 650m and the cable car to Alpe di Siusi ca. 500m.
Garage Central also offers a subscription service, to view prices click on the link below.
Price list and subscriptions
Up to 1 hour:
1,80€
Each additional hour:
1,80€
1 day:
16,00€
Download price list
Payment Methods
The parking lot has two automatic cash desks where you can pay with cash or credit/debit cards. It is also possible to pay with smartphones and contactless electronic cards directly at the gate without going through the cashier.
Opening hours:
Vehicle entry:
24 hours.
Vehicle exit:
24 hours.
Entrance and exit on foot:
24 hours.
Parking regulations Garage Central
Download parking regulations
Number for emergencies
Mobile: +39 338 577 7686
Address:
Garage Central
Via Stazione 1
39046 Ortisei

Tel. +39 0471 797 547
Mob. +39 338 577 7686
info@parkurtijei.it

View on Google Maps
Link Google Maps
GPS Coordinates:
46.575546° - 11.669368°
Happy-Hour card
The "Happy Hour Card" was recently introduced, which allows holders to park for free every time for up to 90 minutes in the Central Garage on Via Stazione. You can apply for the Happy Hour Card directly at the checkout. For the rechargeable "Happy Hour Card," a security deposit of €10 is charged. Prepaid credit can be reloaded on the card to be used to pay for parking.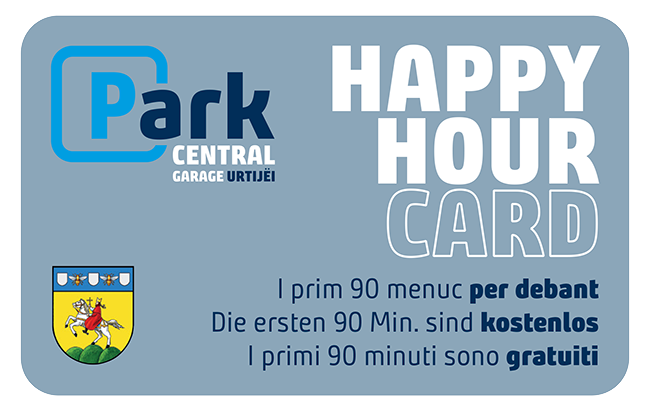 3D Virtual Tour
Explore our garage